About
Sheila Dong is a poet and writer based in Tucson, AZ. They are the author of Moon Crumbs (Bottlecap Press 2019) and have work published or forthcoming in 35+ literary journals. Sheila holds an MFA from Oregon State University and is a poetry reader for Random Sample Review. They identify as Chinese-American, nonbinary, and aro-queer.
Publications
"An Aromantic Watches The Expanse" in Tinderbox Poetry Journal (Forthcoming Spring 2022)

"impostor pantoum" in RHINO Poetry (Forthcoming April 2022)

"Slow Learner" in Ghost City Review (Forthcoming September)

"7 dreams of life and death" in Radar Poetry

"On Hawthorne" in Lines + Stars

"tea disservice" and "dearest friend" in Menacing Hedge

"under the turtle light" in Up the Staircase Quarterly

"Tracery" in Whale Road Review

"Daylight Saving" in Sheila-Na-Gig

"The Phoenix Speaks" and "The Ballad of Lan Caihe" in beestung

"changeling" in The Night Heron Barks

"absentee" and "two pennies" in B O D Y

"magic eye picture," "bad influence," and "reckoning" in Gone Lawn

"fruit," "mirror," and "pigments" in Heavy Feather Review

"The Tights She Wore" in Stone of Madness Press

"lucid dreams," "made in america," "the fiend as a girl," and "in vitro" in SOFTBLOW

"witness" in The Citron Review

"chromatic" and "online dating profile" in Juke Joint

"How You Thought It Would Happen" in Rust + Moth

"stridulation" and "lullaby" in Rogue Agent

"things that are true" in Pretty Owl Poetry (p. 26)

"swan as a verb" in Stirring

"Apache-Sitgreaves" in Rockvale Review

"You have no reason to be this upset," in Open Minds Quarterly (Print)

"Ouroboros," "News Cycle," "Glut," and "Letters to Blue" in Old Pal Mag

"A narwhal's tusk" and "How Are You?" in Arcturus

"Leading Questions" (essay) in Palimpsest (Print)

"The Garden of Eating" in Moonsick Magazine

"The Dreamly Prey," "Fox Pup," "Cygnets," and "Beautiful Hospital" in Menacing Hedge

"Song of the Salt Pillar" and "Pulchritude" in Prairie Margins (Print)

"#stuckinthevoid" in Runestone

"On Being Thrust into Legal Adulthood" in Glass Mountain (Print)

"Rise" in Words Dance

"When I Loved Pyrobabe," "Soliloquy," "Rapture," "But Wait - There's Less!," "Hypochondriac," "Life Dissipates Art," "Artifact," and "Ascensions" in Persona (Print)

"Stale Coffee" in Sun and Sandstone (Print)

"Confabulated" in Scribendi (Print)

"A Particular Kind of Poem" in Collision Magazine (Print)

"Paradox of Entailment" in Verbatim Found Poetry
Moon Crumbs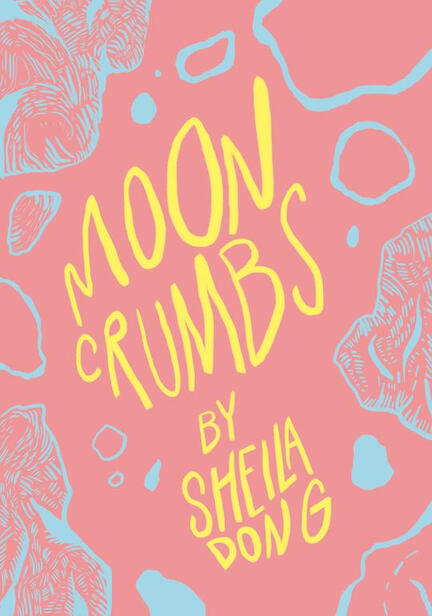 Prose poetry chapbook, Bottlecap Press, 2019
What are moon crumbs? Tidbits to light your way. Surreal, poem-like pieces that tell of hurt transfigured to healing, of the strangeness and wonder of growing up, of finding beauty in the face of inevitable loss. Moon crumbs are bite-sized, paragraph-length confections that taste alternately sweet, bitter, and savory; playful, sad, and rapturous. The speakers in this chapbook find their joy in nature, language, body, and artifacts of living, but most of all in love and human connection. So what are moon crumbs? Call them prose poems, call them lyrical vignettes, call them snacks for the soul, sprinkled down from a luminous place.
"Sheila Dong's work is transformative, constantly doing the grief work of turning damage into a portal of healing. I heard them read once, at this little place in Portland, Oregon, back in 2019, & I've always found some charged shard of light in their words." —Michael Wasson, author of This American Ghost and Swallowed Light

Review by Ally Harris in The Poetry Question
Goodreads page